IEA Sustainable Development Scenario May Already Be 15 years Behind
February 25, 2022
The move towards a greener economy will require a massive increase in the mine production for many critical metals.
Problem 1: Committed mine production does not come close to what's necessary for future goals. (IEA Sustainable Development Scenario).
Problem 2: Lead times for major mining projects can extend close to 20 years depending on the metal.
The world basically needed to start investing 20 years ago to have any chance of having the raw materials to achieve all of these goals. A major mining project may take a little over 12 years for discovery, exploration, and feasibility analysis. Another 2-3 years for construction planning. And then out to 16 years for construction to production. So, that's a 16-year lead time for minerals that we may already be 15 years behind on.
Any significant change in production requires companies to frontload emissions in the face of increasing political and regulatory scrutiny. But the goal for many extractive industries is to decrease emissions. The only way to accomplish that is to not expand production in any meaningful way. #SmoothTransition?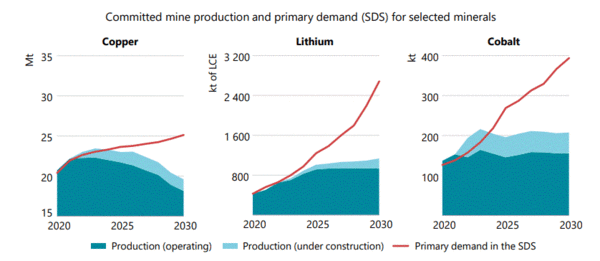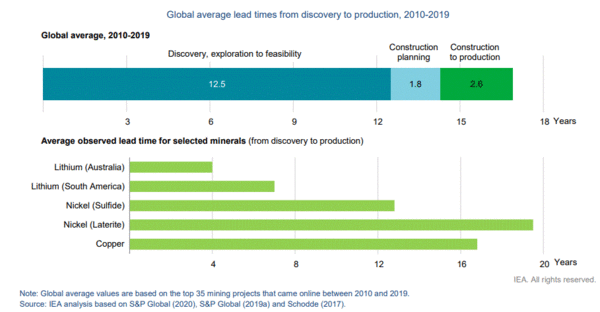 This post was also published on Twitter/X. Click to see this post:     
Confidentiality Notice: This post, and any attachments, contains information that is, or may be confidential or proprietary in nature. If you are not the intended recipient, please be advised that you are legally prohibited from retaining, using, copying, distributing, or otherwise disclosing this information in any manner. Furthermore, this communication is for informational purposes only and nothing herein should be construed as a solicitation, recommendation or an offer to buy or sell securities or any product.
© 2023 Horizon Kinetics LLC ®. All rights reserved.