Lower DUC Count Signals Lower US Production
February 22, 2022
Historically, there has been a strong correlation between the number of active drilling rigs and the spot price of West Texas Intermediate Oil (WTI). Since the early days of the pandemic, this correlation has weakened considerably. While there has been a steady but modest uptick in the rig count, the number of drilled but uncompleted wells (DUCs) has declined substantially over the last few years (1/2020 – 8,547; 1/2021 – 7,449; 1/2022 – 4,466). DUC counts are the lowest they have been since January 2014 (4,462). Unless the DUC count starts to reverse, oil production is expected to peak and then start to decline rapidly as existing wells deplete themselves. It should also be noted that most oil companies complete high grade wells. That is, they complete the wells that they deem to be most productive. Fewer DUCs and lower quality output do not bode well for production.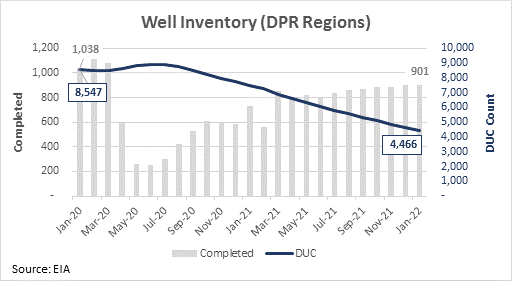 This post was also published on Twitter/X. Click to see this post:     
Confidentiality Notice: This post, and any attachments, contains information that is, or may be confidential or proprietary in nature. If you are not the intended recipient, please be advised that you are legally prohibited from retaining, using, copying, distributing, or otherwise disclosing this information in any manner. Furthermore, this communication is for informational purposes only and nothing herein should be construed as a solicitation, recommendation or an offer to buy or sell securities or any product.
© 2023 Horizon Kinetics LLC ®. All rights reserved.