Rig Count Severely Lags WTI
February 17, 2022
Global inventories of oil and gas remain well below historical levels, while global oil demand is set to surpass pre-pandemic levels in 2022[1]. This has resulted in elevated energy prices – $93.56 for WTI oil and $4.55 for Henry Hub gas as of this writing. Typically, a market-based solution would be higher levels of oil and gas production to balance the market, as higher prices drive higher economic returns for producers. However, the U.S. rig count is a strong leading indicator of future oil and gas production activity, and the Baker Hughes Rig count has yet to respond to higher oil prices. Moreover, as the mix of U.S. rigs is increasingly horizontal rigs for fracking, the requisite rig count required to maintain production levels would be expected to rise over time given the higher decline rate of horizontal wells. To be fair, many energy companies have achieved materially higher productivity per well, but this does not negate the long-term need for additional drilling activity. U.S. energy production has never been so important to global supply, particularly as OPEC+ is taking a measured approach to returning supply to the market[2].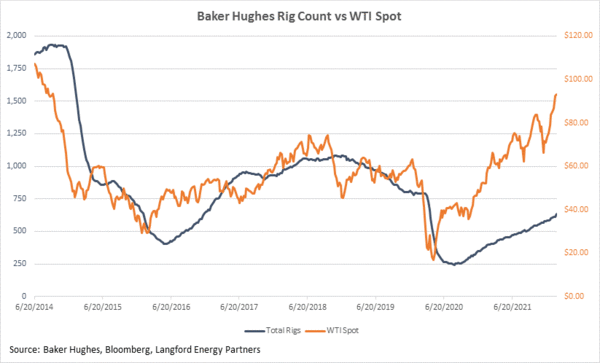 This post was also published on Twitter/X. Click to see this post:     
Confidentiality Notice: This post, and any attachments, contains information that is, or may be confidential or proprietary in nature. If you are not the intended recipient, please be advised that you are legally prohibited from retaining, using, copying, distributing, or otherwise disclosing this information in any manner. Furthermore, this communication is for informational purposes only and nothing herein should be construed as a solicitation, recommendation or an offer to buy or sell securities or any product.
© 2023 Horizon Kinetics LLC ®. All rights reserved.