Real Estate Costs - What is Measured vs What is Experienced
February 16, 2022
Last week's CPI number was undoubtedly hot at 7.5%, the highest reading since 1982. But a closer examination of the data reveals that inflation may actually be much hotter than reflected by the CPI. Owner's Equivalent Rent (OER), one of the largest factors impacting the CPI number, has historically understated the biggest moves in housing costs and is worth examining thoroughly. Which line more closely relates to your housing costs? Case-Shiller vs. OER?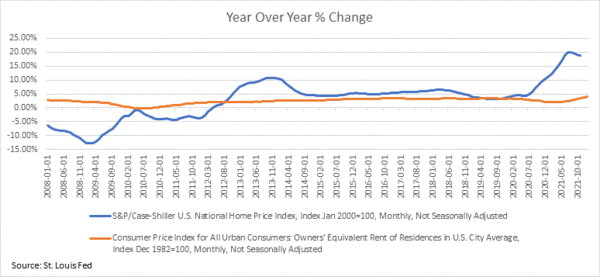 (https://www.bls.gov/cpi/factsheets/owners-equivalent-rent-and-rent.pdf):
"Housing units are not in the CPI market basket. Like most other economic series, the CPI views housing units as capital (or investment) goods and not as consumption items. Spending to purchase and improve houses and other housing units is investment and not consumption."
"The expenditure weight in the CPI market basket for Owners' equivalent rent of primary residence (OER) is based on the following question that the Consumer Expenditure Survey asks of consumers who own their primary residence: If someone were to rent your home today, how much do you think it would rent for monthly, unfurnished and without utilities?"
On the Case-Shiller Index
(https://www.spglobal.com/spdji/en/index-family/indicators/sp-corelogic-case-shiller/sp-corelogic-case-shiller-composite/#overview):
"The S&P CoreLogic Case-Shiller Home Price Indices are the leading measures of U.S. residential real estate prices, tracking changes in the value of residential real estate nationally."
Which measure is more representative of housing market inflation?
This post was also published on Twitter/X. Click to see this post:     
Confidentiality Notice: This post, and any attachments, contains information that is, or may be confidential or proprietary in nature. If you are not the intended recipient, please be advised that you are legally prohibited from retaining, using, copying, distributing, or otherwise disclosing this information in any manner. Furthermore, this communication is for informational purposes only and nothing herein should be construed as a solicitation, recommendation or an offer to buy or sell securities or any product.
© 2023 Horizon Kinetics LLC ®. All rights reserved.